HIS EXCELLENCY JOHN AGYEKUM KUFFUOR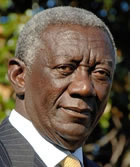 John Kufuor is the former President of the Republic of Ghana. He served as the President of the Republic of Ghana from January 2001 to January 2009 having won the general elections of the year 2000 under the ticket of the NPP(New Patriotic Party). He succeeded the then President Jerry John Rawlings. Under his tenure,the nation witnessed an unprecedented scale of development through infrastructure and human resource. He is a Lawyer by profession. Prez Kufuor is a founding member of the FCHF.
Under his leadership most debts owed by Ghana were cancelled and through prudent economic management, Ghana rose from a Highly Indebted Poor Country (HIPC) status to a Middle Income economy.